Ian Jackson
&
Joshua Johnson
Peel, Tear, Patch & Repair
30·09·16 - 14·10·17
A JCB struggles to pave the road with railway sleepers, presumably to protect the brittle asphalt from its enormous weight. With great difficulty, its long overbearing claws attempts to grab a sleeper and push it into alignment. The machine seems too giant, too colossal for the job at hand. A site manager attempts to aid in the process with hand signals, but appears to have little impact. A flatbed lorry enters with an overwhelming load of unbalanced steel girders, balanced perilously, some lay on their corners, one leans on the roof of the cabin, all wrapped, held only by the force of the few ratchet straps,

Unnoticed scars remain, a few small, seemingly insignificant holes are left interrupting the buildings tired exterior. Larger, shallow gashes appear at irregular intervals, embedded into the red granite, microscopic fragments of archeology, shavings of metal and stone survive, comfortable in the position they first lay. Scolded stone, molecular composition permanently damaged, darkened an area from where the dislodged, violently ejected stone came. Roman fragments recovered, cute old couples walking around, looking, intrigued by the smallest detail.

Bomb scare
Wandering aimlessly is surely a peaceful pastime, stumbling, wrapping, unwrapping, parachute mine, designed to be detonated at a height rather than on impact to the earth. The shock waves from the explosion are free, uninterrupted by surrounding buildings. Now a green, finely woven debris canvas obstructs our view, tied with matching tie wraps crudely onto a maze of scaffolding. Shielding us from the ruin, wrap the building to protect us, protecting itself from us, unwrap the building to reveal how it has healed. It allows the circulation of air, some protection from the rain and wind, making an ideal, safe environment.

Layering over the wounds with wounds.

Lighter bricks often indicate replaced stones, lighter concrete sometimes points to the 'filling in' of wounds in the surface of the stone. A bodged repair, filling holes with plaster, a half hearted attempt to cover up. Decapitated buildings. The false brick facade is slowly beginning to peel and tear, merely a few weeks into its completion. It will be patched, repaired, covered over with more of the same abundant material, it was supposed to be, although it can be replaced, there will always be a scar.
Accompanying text by Joseph Hulme
Liquid Amber
Pressed liquid amber tree, brass stand and custom fittings
Ian Jackson
Detail:
Liquid Amber
Pressed liquid amber tree, brass stand and custom fittings
Ian Jackson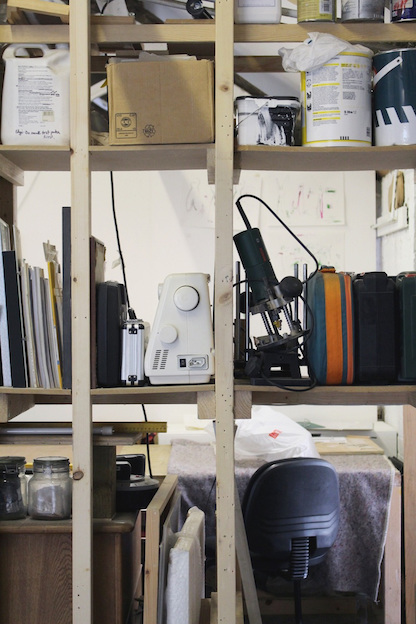 Fold
RAL colour matched paint and removed gallery walls
Ian Jackson
Detail:
Fold
RAL colour matched paint and removed gallery walls
Ian Jackson
ou, or
Powder coated aluminium, vinyl, wood, fixings, aluminium, liquid plastic and tube clamp system
Joshua Johnson
Detail:
ou, or
Powder coated aluminium, vinyl, wood, fixings, aluminium, liquid plastic and tube clamp system
Joshua Johnson
Bench
Wood, fixings, tube clamp system, accompanying text
Joshua Johnson
Stool
MDF and accompanying text
ea
Powder coated aluminium, vinyl, wood, fixings, aluminium, liquid plastic and tube clamp system
&
Shlumbpf (i)
Jesmonite and glass fibre
Joshua Johnson
Shlumbpf (i)
Jesmonite and glass fibre
Joshua Johnson
ew, oo
Powder coated aluminium, vinyl, wood, fixings, aluminium, liquid plastic and tube clamp system
Joshua Johnson